The Department of Political Science and Public Administration in Collaboration with Konrad Adenaur Stiftung (Kas) invites you to a symposium on the 'Implications of the Constitution of Kenya (Amendment) Bill (2020) on Devolution.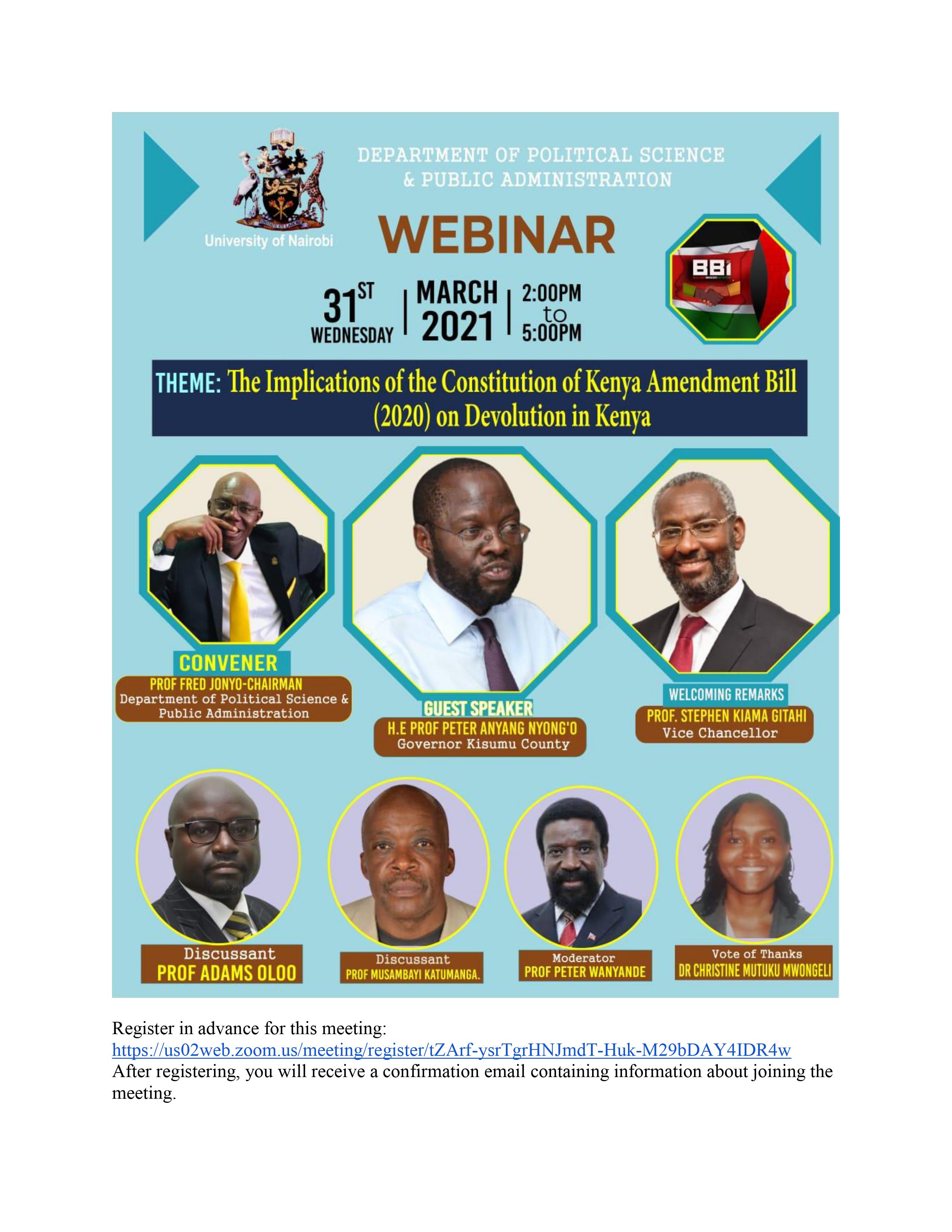 It is no doubt that the 2010 Constitution of Kenya is far from perfect and needs strategic amendments to enhance the primary constitutional aspirations of representation, equality and development in the country. The BBI debate through its proposed Constitutional amendments Bill 2020 comes with such a critical and unique national forum to discuss the eminent constitutional gaps. Most importantly, the BBI unlike other constitutional change initiatives such as Punguza Mizigo has presented a unique window of opportunity for the most needed constitutional and institutional changes in the system of government in Kenya. By bringing together the two most powerful political camps or rivals in the country to the table, and besides riding on the executive support, this amendment bill has effectively rallied national political support at the local level thereby demonstrating, for the first time, the possibility of the beginning of bottom-up processes of change in Kenya.
This symposium will solicit constructive exchange of knowledge and insights into the implications of the BBI's proposed Constitution of Kenya (Amendment) Bill, 2020 on Devolution in Kenya. This discussion values multidisciplinary inputs from participants from different disciplines, sectors, as well as researchers, political parties, social groups, activists, religious groups and individuals.
To attend the symposium, please register in advance through the link below:
https://us02web.zoom.us/meeting/register/tZArf-ysrTgrHNJmdT-Huk-M29bDAY4IDR4w
After registering, you will receive a confirmation email containing information about joining the meeting.